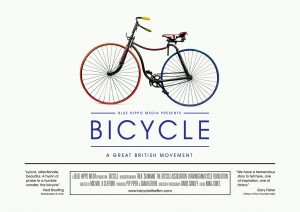 January 2015: Our First event was "Bicycle" An 86 minute documentary, asks the question 'why is cycling and the bicycle back in fashion?' There are interviews with Sir Dave Brailsford, Gary Fisher, Chris Boardman, Ned Boulting, Sir Chris Hoy, Tracy Moseley, Mike Burrows and many more plus great archive, animation, and music.  "Bicycle" is a humorous, lyrical, and warm reflection on the bicycle and cycling and its place in the British national psyche.
This was followed by a presentation by Ian Emmerson OBE about the 2015 National Cycling Championships due to be held in Lincoln, summer 2015.
---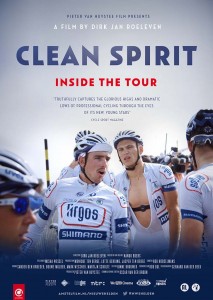 5 May 2015: Our next event was Clean Spirit. A Dutch film about pro cycling team Argos-Shimano, keen on showing that winning is possible without any use of doping. The film follows the team during the 100th edition of the Tour de France.
We were honored with a fabulous Q&A session after the film between Clean Spirit's director Dirk Jan Roeleven and Cannondale Garmin's rider Nathan Haas. This was just before Nathan was off to ride Critérium du Dauphiné followed by the Tour de France, so his insight was fascinating for everyone.
'…the venue is fantastic, we had a great turn out and everything was super well organised.' Laura Fletcher. Producer. Clean Spirit
---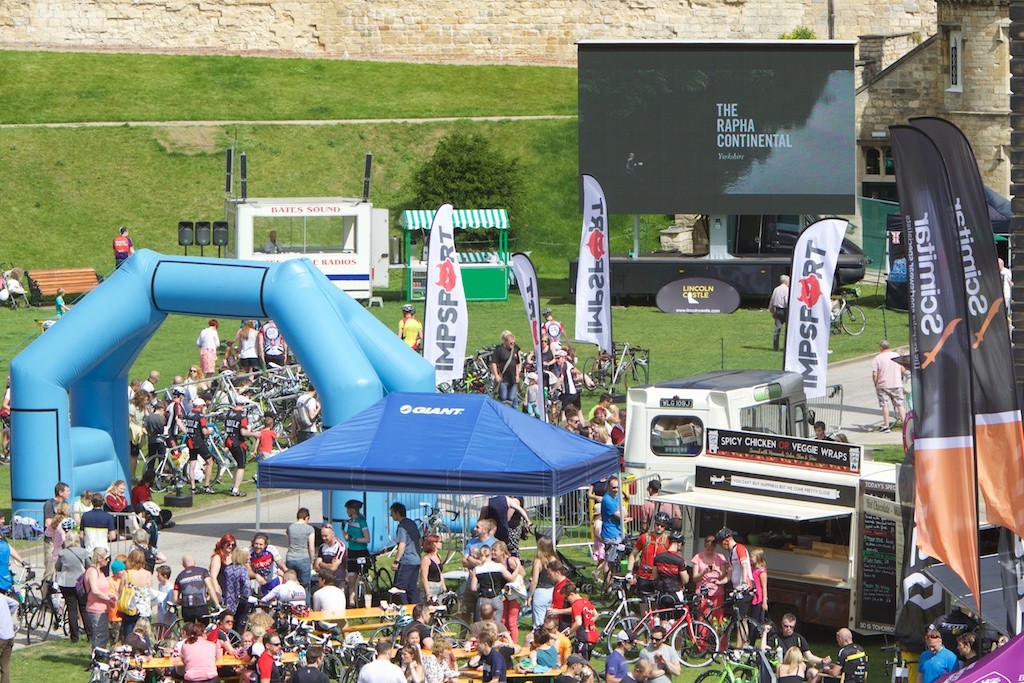 27 June 2015: The Lincoln National Championships. Bike Night was asked to populate the screens with short films during the Sportive on Saturday 27 June and between the live coverage of the National Road Champs on the following day. This we did with a rolling program supplied by local and national businesses.
Names include; Rapha, British Cycling, Team Sky, Muc Off, SRAM, Fit4Less, Lincoln Drill Hall, Ellmore Clothing, Team Saxo, GCN and The Angel Coffee House.
---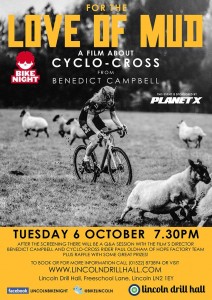 6 October 2015: For the Love of Mud. With the off season about to begin, we decided to try a CycloCross film. We were also sponsored for the first time by Planet X.
Benedict Campbell's film fitted perfectly and given the opportunity of a Q&A with Ben and Hope Factory Team's Paul Oldham, we were in for a fantastic evening. Hosted by Dan Ellmore, Paul and Ben were great and really appreciated by the audience.
Finally, we raffled off some goodies kindly donated by Baked by Eileen, Planet X, SRAM, Giant Bikes (Lincoln) and the British Film Institute.
'Great evening, thanks @digitalcrow@BikeLincoln. So, how much is a cyclo-cross bike?' via Twitter
---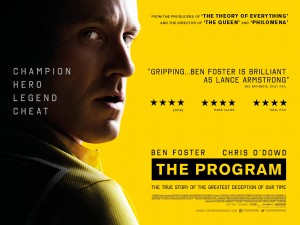 31 January 2016 The Program. Released in September 2015, this film never made it to any cinema in Lincolnshire. This is the reason Bike Night was set up. We secured the film and had a great turn out of 140 cinema goers. We also moved to a new venue for cinema: The Venue. Great cinema experience, bar and free parking.
Q&A was with Dan Ellmore of the Lincoln Grand Prix providing a presentation on what is happening with the Pro race and filling us in on the Lincoln GP Sportive clash with ITP. He was able to inform us a final outcome to a confusing few months on this subject.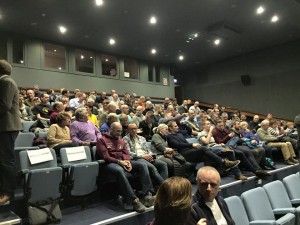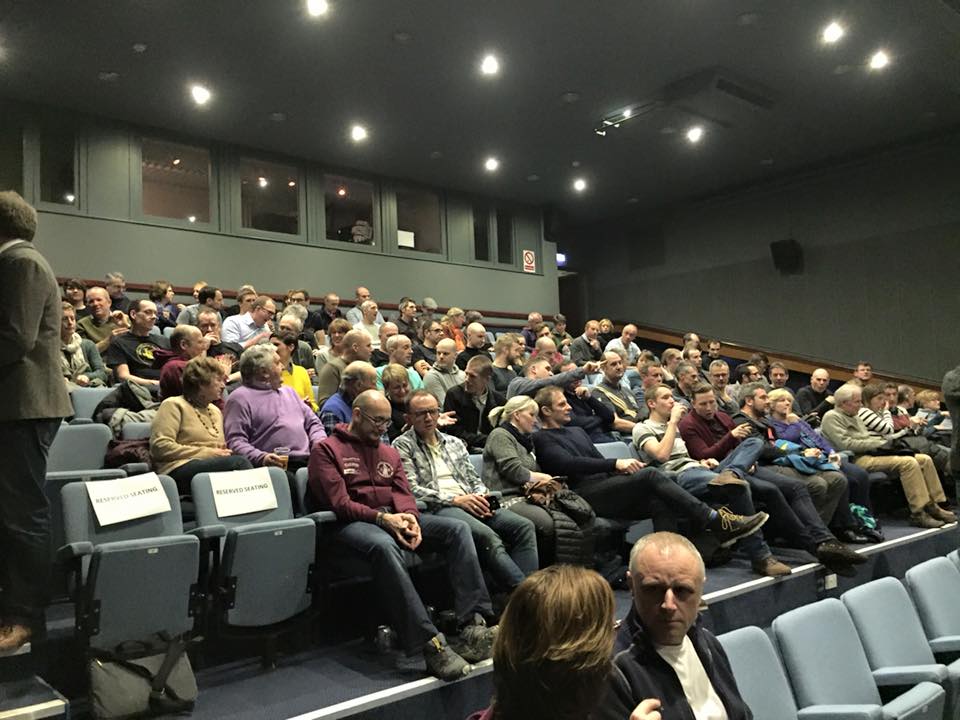 Finally we ran the raffle again with some great prizes from Paniagua supplying us with EPO coffee- a fantastic 'Armstong' link! Other items from SRAM, Volvo Life Paint and Phil Crow supplying a book on last years Nationals.
---
May the 4th is traditionally Star Wars Day. However, in Lincoln, it became Obree day thanks to our latest Bike Night event. We showed the film Battle Mountain and were joined by the star of the film, the flying Scotsman himself, Graeme Obree who topped the evening off with a fantastic Q&A session.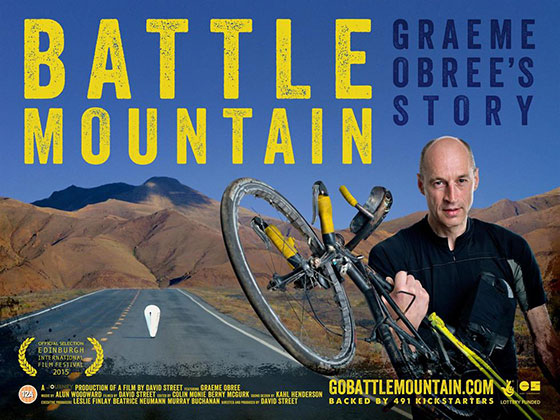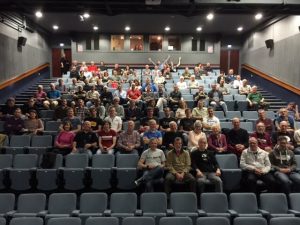 Another good turn out of over 100 enthusiasts and a really exciting film, alot of people commented it was one of the best Bike Nights yet, plus Graeme telling the audience that…
You are the most important peer group I've spoken to
Praise indeed for our ever attentive and inquisitive audience. The evening was topped off with the ever popular Bike night raffle with prizes from Velobici, Ellmore Clothing and Tri Up Cycle Designs as well as Graeme bringing along "The Beastie" for people to "try out!"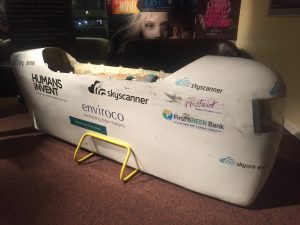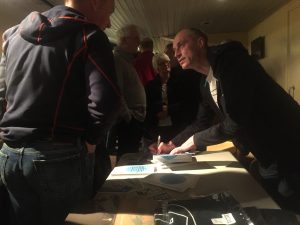 ---
A first for Bike Night bringing a MTB film to the 'roadies' and to encourage a broader spectrum of cyclists…after all, alot of us will have started as kids on Raleigh Grifters and BMX, so crossover is and always will be massive. Personally I started on a Raleigh Tomahawk with stabilisers followed by the Chopper!
Blue Hippo Media & Singletrack Magazine presents
Mountain Biking: The Untold British Story
Mountain Biking is a crowd funded film. Lincoln Bike Night donated to help complete the film (we are in the closing credits!) We also had some short films and adverts before the main feature this time. With such a great selection of sponsors donating to Bike Night's raffle, we're now screening their ads and short films, so a big thanks once again to Single Track Magazine, Orange Bikes, Hope Technology, Erdinger UK and Muc Off. Huge thanks to Muc Off for going the extra mile in providing us with goody bags for the audience too- great surprise for all!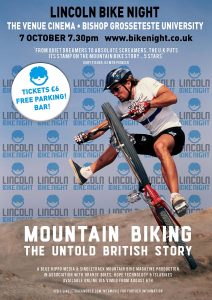 Great night last night, loved the film and the Hope Technology LtdOrange Mountain Bikes and Muc-Off products were a great bonus too!
---
An Evening with Ned Boulting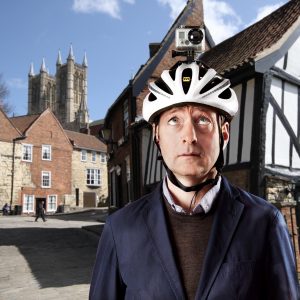 A "Lincoln specific" one off edition of Ned's show. Very entertaining and hilarious. Local references and the inner tube challenge saw 2 contestants  going head to head changing their tyres. Great turn out as always. Did we ever see the contents of that jiffy bag…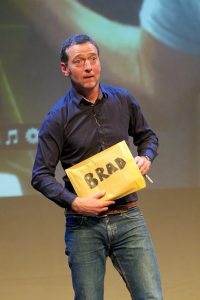 ---
Remembering Mr Tom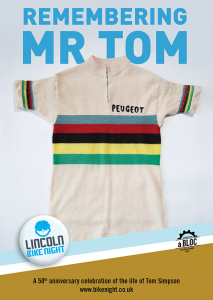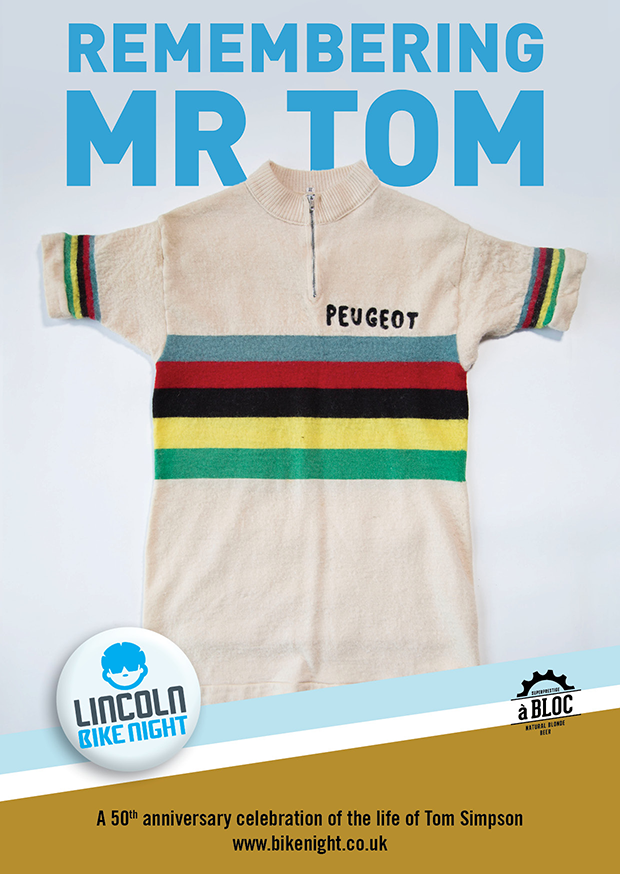 50th anniversary celebration of the life of Tom Simpson

ITV Calendar were with us and made a short report. View it here
An amazing evening. Personally, I could have listened to Barry and Helen for hours. Such an interesting and friendly couple.
Thank you both for making the trip over to speak to us
We also raised £170 for the Tom Simpson Memorial Fund.
Thanks to Muc Off and àBloc Beer for prizes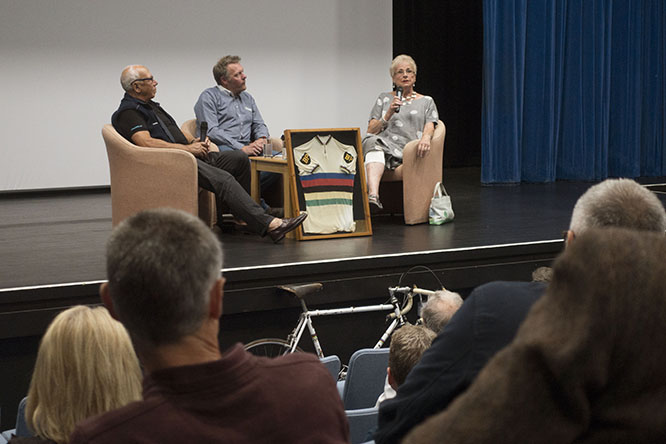 ---
"AN EVENING WITH MARK BEAUMONT"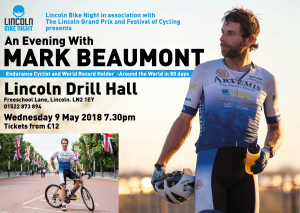 An almost sell out show! Mark shared so many stories with us with a fascinating insight into the world of ultra endurance and what it takes to plan a journey and world record attempt on literally a global scale.
Riding 16 hours and an average of 240 miles every day  is no mean feat!(that's an average speed of 15mph day in day out!)
Mark raced back into Paris in 78 days 14 hours and 40 minutes, smashing the previous World Record by a staggering 44 days.
"The fear of failure is massive – it's scary, hugely intimidating.

You don't have to be a bike rider to understand that riding for 16 hours a day for two-and-a-half months is quite a commitment. But how many people in their lives have the opportunity to take on their biggest dreams?"   M. Beaumont
We also ran a silent auction for Mark's charity Orkidstudio Huge thanks to all bidders and to Mark for the prizes as well as Speedframe for framing the signed jersey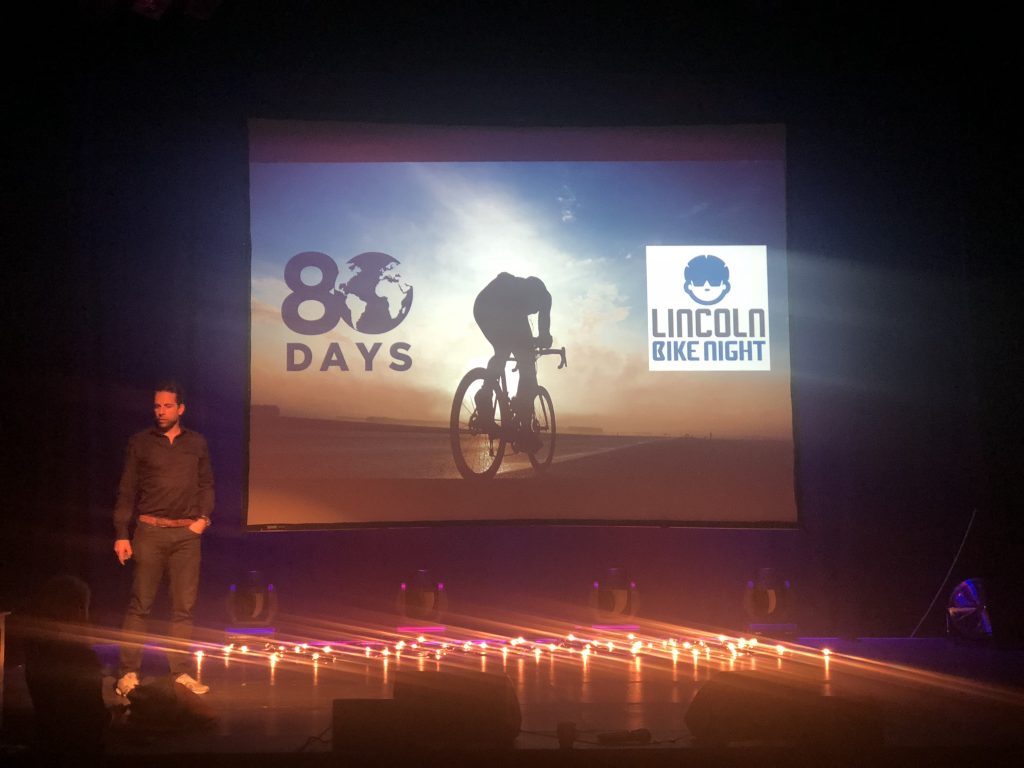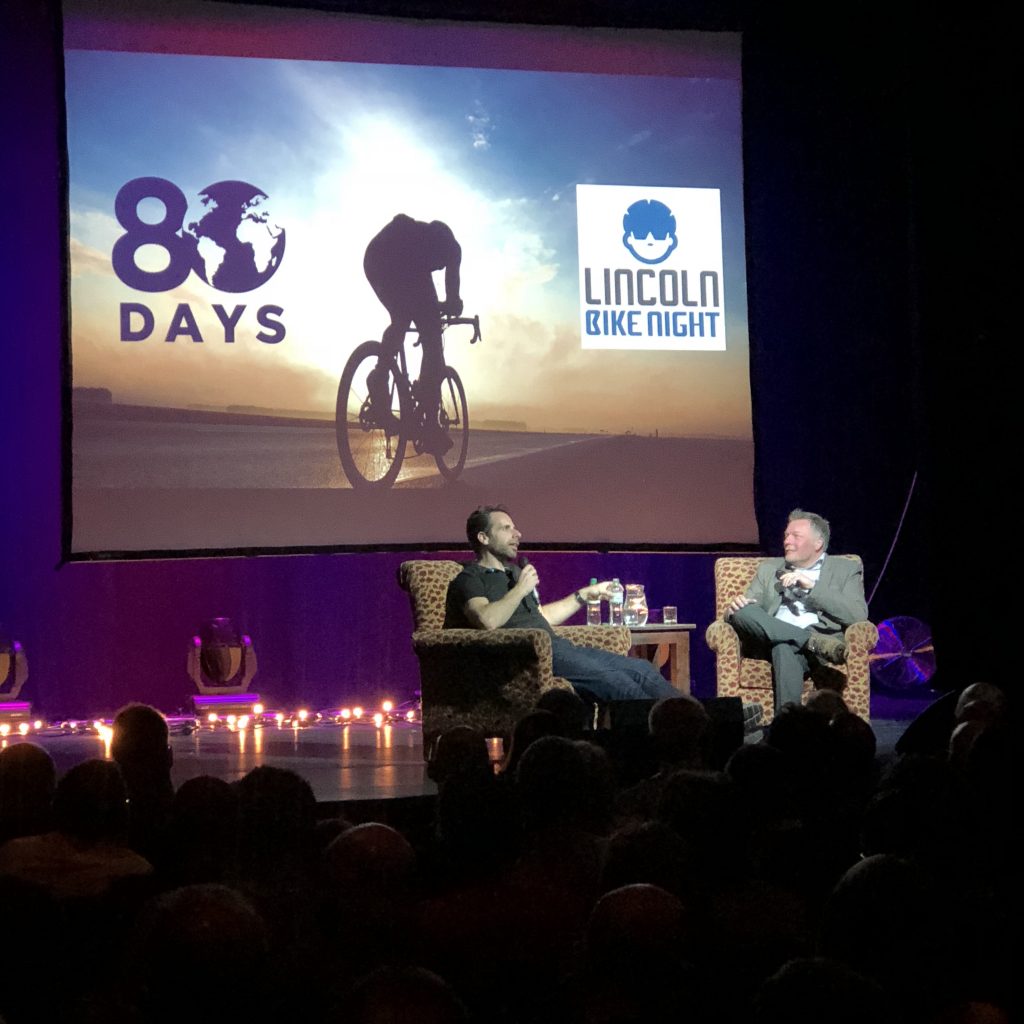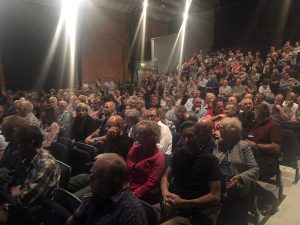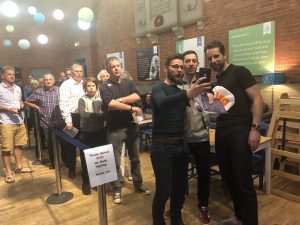 ---
"TIME TRIAL" Featuring David Millar
Friday 13 July. 7.30pm at 
The Venue Cinema

Finlay Pretsell's compelling documentary TIME TRIAL,following the final races of cyclist David Millar's career, leading up to his last encounter with the Tour de France.
The ONLY screening in Lincolnshire, Bike Night was two thirds full for this film screening. A great audience as always and some great feedback!
@TimeTrialFilm is raw, gritty, beautiful and sad. The cinematography matches it perfectly think film rather than video, more analogue than digital.    Best watched on a big screen. Thanks @BikeLincoln for hosting. Soundtrack by @ebaynetflix is decent too. #chapeau all involved.

Great night again by the guys at @BikeLincoln … @TimeTrialFilm is a great watch, well done @millarmind  👍🏻👍🏻👍🏻